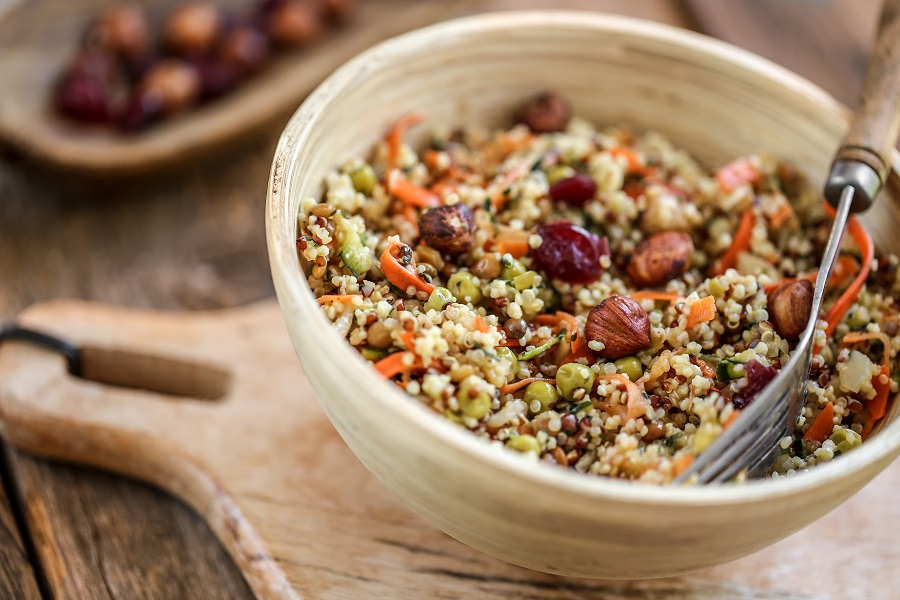 First courses with quinoa: recipes
First courses based on quinoa are a must in summer: easy to prepare and tasty to eat, they are extremely practical, ideal to take with you, perhaps as a packed lunch during a trip to the seaside or to the mountains. So, let's look at some quinoa recipes that are a sure success!
Quinoa salad with vegetables
Quinoa salads are an excellent alternative to rice. To prepare a fresh and appetizing dish you will only need seasonal vegetables, in this way you can make a perfect vegetarian and vegan first course. To cook a quinoa salad with vegetables you need: quinoa, cherry or datterino tomatoes, artichokes in oil, arugula, lemon, vegetable broth, oil, salt, pepper and basil. Rinse the quinoa well and toast it in a non-stick pan for three minutes, then, in a similar way to the classic method for preparing risotto, gradually add some vegetable stock. Once the quinoa is cooked and the water absorbed, let it cool. Then add all the vegetables cut into small pieces, a drizzle of oil, basil and a splash of lemon … and voila!
Hot quinoa with zucchini
If you are more inclined for hot dishes, then, warm quinoa with courgettes is for you. In this case, too, the procedure is similar to that of risotto: just add the vegetable stock a little at a time and make sure that the quinoa does not "stick" to the pan. The courgette previously cut into slices, once cooked and well mixed with quinoa, will make a delicious "cremina". See it to believe it!
Gluten-free rice and quinoa pasta
If you are a pasta lover, you can try a special type based on rice and quinoa. Le Celizie offers a gluten-free rice and quinoa pasta with a delicate flavor that goes perfectly well even with the most flavorful and strong seasonings. For example, try the fusilli with a mushroom and sausage sauce or with smoked salmon, dill and a spoonful of cream, to make everything super creamy and yummy!