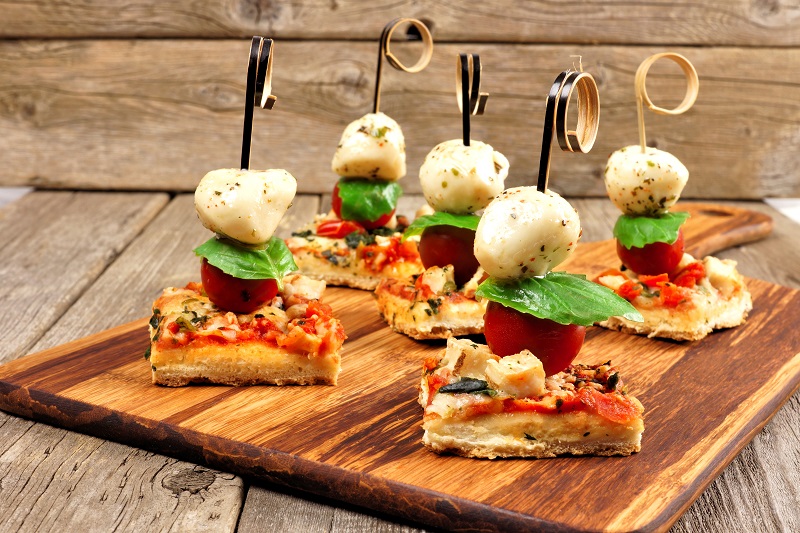 Ideas for gluten free appetizers
Your house is often a perfect place to celebrate important events with a buffet, an aperitif and some homemade appetizers. But what can we prepare if someone is gluten intolerant? Let's discover in this article what gluten free appetizers we can cook for a light and delicious happy hour!
Recipes for a gluten free happy hour
Today organizing a delicate and tasty happy hour with gluten free recipes is very easy. It is enough to follow some "tricks"  to make an evening with friends, colleagues or just acquaintances special. The aperitif can be organized in your living room (if your house is big enough to welcome guests) or, when the weather is nice, in your garden or terrace. In conclusion, a good sofa and some background music, but above all, excellent food is enough and all done! Here are some gluten free recipes, such as skewers with anchovies and mozzarella, oriental style crunchy chicken stripes or savory muffins with courgettes and bacon. These recipes do not require wheat flour, but you have to pay attention while cooking: contamination with food that contains allergens must be avoided. Finally, gluten free appetizers are perfect not only for buffets and aperitifs, but also to start dinner or lunch.
Appetizers for people with coeliac disease: here is what you can choose
A good lunch or a good dinner often starts with some appetizers. What if we have guests who suffer from gluten intolerance?  Don't worry, here are some quick recipes for tasty and healthy dishes, because, in spite of allergies, you can't miss tasty, coloured and light dishes! Therefore, before choosing a pasta or rice dish and a main dish, let's focus on some appetizers for people with coeliac disease, like frittata rolls with ham and spinach or mini glasses with salmon and avocado. "Le Celizie", that is specialized in gluten free products, offers many products for your appetizers ,also available in its online shop, like pizza with evo oil dough: it is perfect for homemade recipes, thanks to its crunchy and soft texture, it is naturally leavened and can be served in 10 minutes! Also spianata with black olives is a perfect appetizer: it can be either stuffed or served as a side dish with many recipes: both are without lactose and soy and very rich in fibres, therefore they are ideal if you follow a vegan diet.