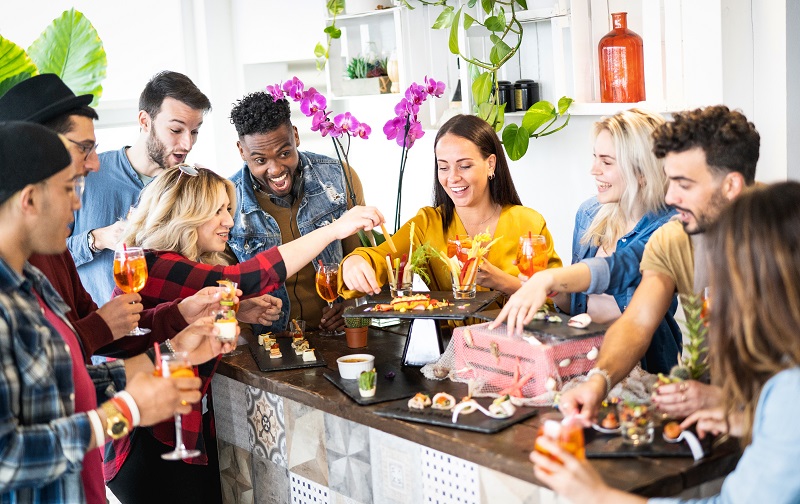 Inexpensive and tasty aperitif at home: what to prepare
During this period of time we are having fun with aperitifs at home, on video call with friends and family, to spend in their company an evening of laughter with an excellent glass of wine. Just a few simple tricks are enough to make a real happy hour, just like the one at the bar: we can for example prepare delicious and tasty appetizers to accompany our cocktails. Here are some ideas to make a perfect aperitif at home, which is both inexpensive and healthy!
How to organize a happy hour at home
To organize a happy hour at home that mimics the style of the classic one found in bars, the first rule is to prepare a small buffet of appetizers. Obviously there is no need to go for excessively large quantities: just a small taste for each preparation. An obvious place to start is pizza: with Le Celizie pizza base, prepared with extra virgin olive oil and obtained by natural leavening, we make delicious finger food that will be loved by everyone, celiacs, vegans, vegetarians and lactose intolerants. We can season the base as we like and it will be ready in just 10 minutes: just cut it into small slices and it is ready to be served. We can then add to our buffet some "spianata": Le Celizie offers you the classic rosemary one, ideal to be stuffed, or the variants with black olives or onions. If we want to transform our happy hour at home into an aperitif-dinner, we can add to the menu small portions of gluten-free pasta, always in finger food format: a delicious idea is to stuff Le Celizie yellow corn paccheri with a cream of ricotta cheese and tomatoes, you have to try it!
Le Celizie: gluten-free appetizers for your aperitif  
The ideas we have just recommended are just a few examples of what you can prepare for a healthy, gluten-free aperitif at home. Le Celizie products are in fact perfect for making many genuine and above all tasty gluten-free appetizers. In fact, following a healthy and balanced lifestyle does not mean having to give up the pleasure of eating tasty foods. Le Celizie's selection is therefore the perfect combination of health and gluttony: its products are prepared with high quality raw materials, without the addition of additives or preservatives, they are allergen-free and therefore ideal for those who suffer from food intolerances.