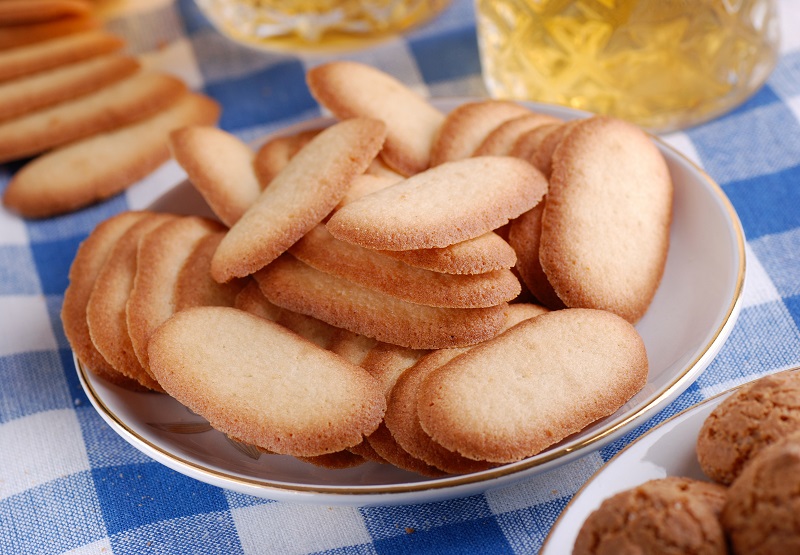 Lingue di gatto: light and delicious cookies
Lingue di gatto cookies are perfect to accompany teas, creams, ice-creams or any other soft dessert, thanks to their delicacy and lightness. Let's discover some interesting facts about the name and origin of such delicious delicacies!
The origins of lingue di gatto cookies
Lingue di gatto cookies come from France and are very popular and appreciated in Italy as well. You can indulge yourself to this little pleasure every day while having breakfast or an energizing coffee break.
But why are they called "lingue di gatto" (cat's tongue, in Italian)? The most accredited option is that their name comes from their elongated, thin and narrow shape, incidentally very similar to the tongue of a cat.
The second option plunges its roots in a historical anecdote. During the '20s the pastry shop "Les Halles" in Paris, managed by a pastry chef called Perrault, started to make these delicious cookies. According to tradition, Perrault kept them in a can, with a cat depicted on its lid.
The recipe of lingue di gatto cookies
The recipe of lingue di gatto cookies is very easy and requires few ingredients, like flour, butter, powdered sugar and albumes. Mix them and obtain a smooth batter. Then put it into a sac à poche and prepare your elongated cookies. Quick tip: it is better to properly space the cookies out on the tray, because once baking, they tend to rise and stick to the cookies nearby.
Gluten free desserts: light and crunchy lingue di gatto cookies
Lingue di gatto cookies can be easily included in the category of gluten free desserts, with few tricks. You just need to substitute classic flour (purists would use "Hungarian flour") with rice flour.
But if you are not willing to try your hand at cooking, you can breathe a sigh of relief: there are many types of gluten free lingue di gatto cookies on the market, like the ones offered by Le Celizie, prepared with top quality ingredients, for a sweet and energizing break!