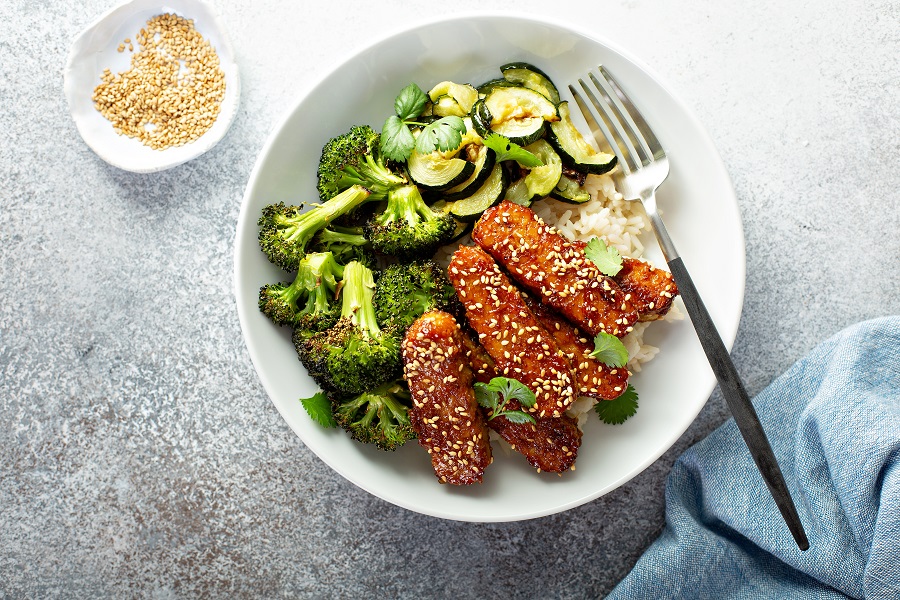 Not just fruit and vegetables: what do vegans eat?
At least once in a lifetime, we have all wondered what vegans eat, given that their diet does not include meat, fish, dairy products and any derivatives of animal origin. Let's immediately dispel the myth that vegans eat only fruit and vegetables: let's find out together what they eat, and what are the substitute foods that make up the vegan diet.
Substitute vegan foods
Replacing meat and cheeses is not as complicated as it may seem. Among the excellent vegan foods we find legumes, often used as meat substitutes because they are very versatile and perfect for creating many recipes, such as hamburgers or meatballs. The same applies to seitan, a very tasty and highly protein mixture, obtained from wheat gluten. Among the vegan meat substitute foods we also find tempeh, a food of Indonesian origin obtained from the fermentation of yellow soybeans which is also called "soy meat" because it provides the same protein content as meat. Vegan cured meats are based on soy, tofu or mopur, a derivative of wheat fermentation.
As for dairy products and, in particular, cheeses, we start from grana, which is replaced by food yeast, to be comfortably enjoyed in flakes. Tofu is also widely used, in all those preparations that require a filling, such as ravioli and savory pies. The spreadable cheese can instead be replaced by chickpea hummus or beet hummus. How to replace eggs, especially in desserts? Using bananas, starch and vegetable yogurt, while vegans use acquafaba instead of the egg whites. Acquafaba is the cooking water of the legumes which, when whipped with the electric whips util stiff, takes on the same foamy consistency typical of whipped egg whites.
Vegan products Le Celizie
Following a vegan style diet is, therefore, not so difficult and, above all, it does not necessarily mean having to give up taste and the pleasure of eating. All these vegan products are in fact very tasty and very versatile, perfect for recreating the typical recipes of the Italian culinary tradition. Furthermore, on the market you can find the best vegan delicacies, ready to taste, such as the Spianata with black olives  by Le Celizie. Perfect both for vegans and for those with food intolerances, it is made with carefully selected genuine ingredients and is free of gluten, lactose and soy: we are sure that, after the first bite, you will change your mind about the goodness of vegan products!