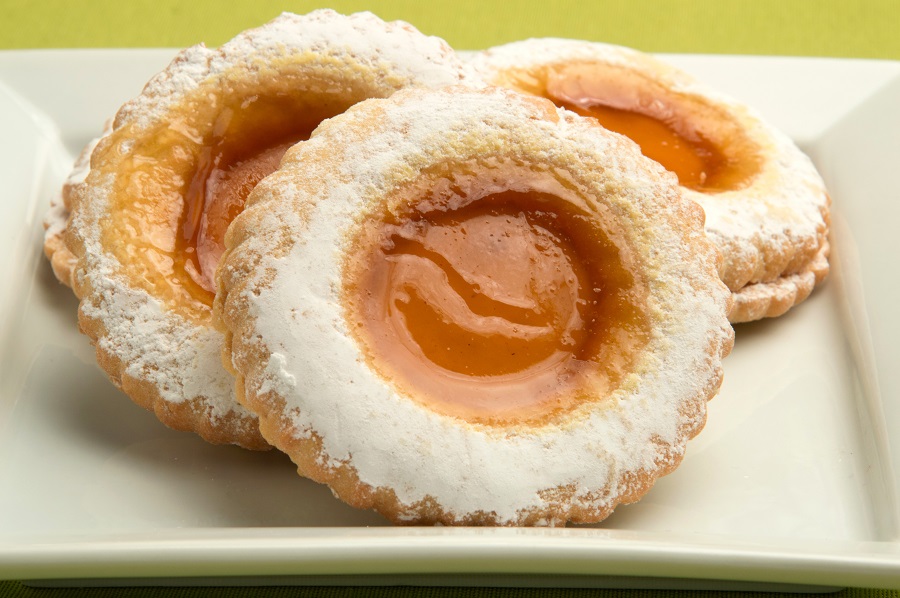 Ox-eye cookies: why are they named like so?
Ox eye biscuits are delicious, perfect sweets to be enjoyed at any time of the day, for breakfast, as a snack, or even as a small "dessert" after lunch or dinner. Let's find out more about these goodies, including the origin of their curious name.
The original recipe for Ox Eye cookies
The original recipe for ox-eye biscuits involves the use of simple and genuine ingredients. For 22 biscuits you need: 500 grams of butter, 8 yolks, 1 vanilla bean, 1 kilo of flour, 400 grams of icing sugar. Once the short crust pastry is prepared with the above ingredients, form a small ball and wrap it with cling film. Leave it to rest in the fridge for half an hour, then spread the pastry on a board with the help of a rolling pin. With a round mold, create 44 small circles of pastry, of which you will pierce half with a special smaller shape: in this way you will also create the discs with the hole. Spread your favorite filling on the "intact" disk and then overlap a holey disk. Bake for 15 minutes at 180 ° and they will be ready!
Interesting facts about the name "Ox Eye cookies"
The Occhio di Bue biscuits are extremely famous, but at the same time few people know the origin of their name. The most reliable hypotheses are two: some argue that the name derives from the fact that the biscuits have the same shape as the "bull's eye" egg, others believe that the biscuits are called so because they are round like the eye of a large beast (in this case the ox).
Ox Eye cookies fillings: chocolate and jam
Le Celizie offers gluten free Ox Eye Cookies to satisfy all palates and to indulge your tastes. The mix Occhio di Bue Le Celizie biscuits offers chocolate, cherry, orange and apricot jam cookies. Thus, you can indulge yourself and be inspired by an irresistible crumbly biscuit!