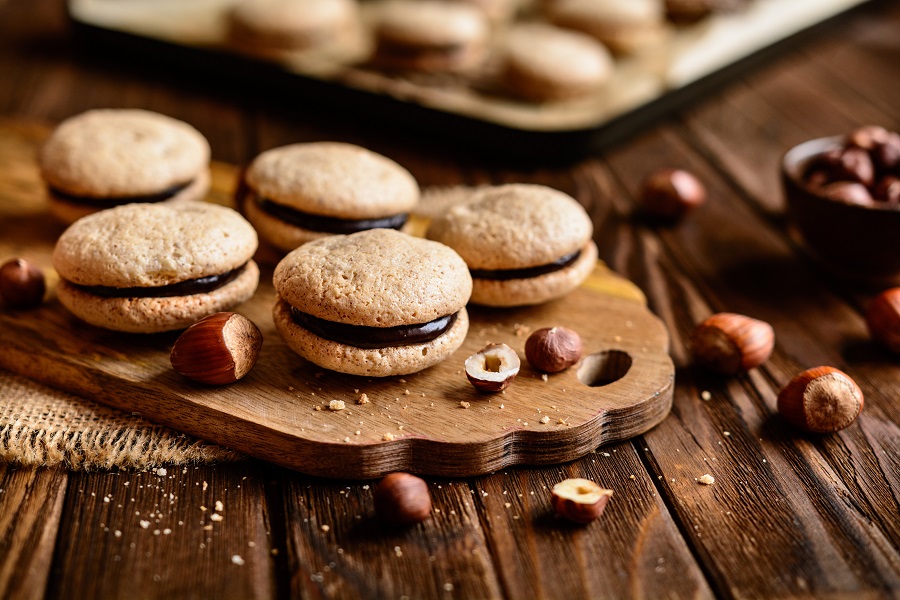 Piedmontese biscuits: Baci di Dama
If in a healthy diet the first fundamental rule is variety, even when it comes to indulging, it is always good to treat yourself with a different biscuit, and no one beats Piedmont in this respect. Piedmontese biscuits, in fact, are many and delicious, and Le Celizie can bring them to your table even in a gluten free version.
Typical Piedmontese biscuits: choose your favorite
Piedmont has an ancient tradition of pastry making, which is expressed at its best in small delights: chocolates and biscuits above all. Among the most famous Piedmontese biscuits there are undoubtedly the Krumiri di Casale Monferrato, which borrow the shape from the mustache of King Vittorio Emanuele II. More spicy, ,and declared the 'indispensable heritage of the Piedmontese gastronomic tradition' by the Savoy are the Bicciolani di Vercelli, which are extraordinarily accompanied by Moscato d'Asti. Elegant and sweet, the Margheritine take their name from the Princess who was so fond of them that they became the official dessert of the Ferragosto holidays on the Piedmontese shore of Lake Maggiore. In the province of Turin, the Canestrelli di Borgofranco d'Ivrea are produced: crunchy waffles prepared with hazelnuts, cocoa and maraschino. And fragrant Paste di Meliga, Torcetti with butter, Acsenti di Biella and Nocciolini di Chivasso… it really seems that every town in Piedmont has its own specialty. However, one biscuit in particular uniquely combines chocolate and hazelnuts, the two most famous ingredients of Piedmontese pastry: Baci di Dama.
Gluten-free Baci di Dama
Le Celizie Baci di Dama are biscuits originally from Tortona, and legend has it that they were invented by a cook in love. Vittorio Emanuele II, in fact, would have asked to taste an innovative dessert and the chef of the House of Savoy would have been inspired by his beloved lips. Whether you are in love with a beautiful lady (or a dandy) or not, Le Celizie gluten free Baci are so good that one leads to another. A skilful mix of flour and starch from rice, soy and corn, create together with the hazelnut paste, a fragrant shortcrust pastry. And then the delicious touch: the filling with extra dark chocolate. Le Celizie gluten-free Baci di Dama are wrapped one by one, to preserve all the aroma of the best Piedmontese hazelnuts and cocoa. A detail that helps to preserve these small masterpieces, even if we know that once you have tasted the first they will be snapped up!