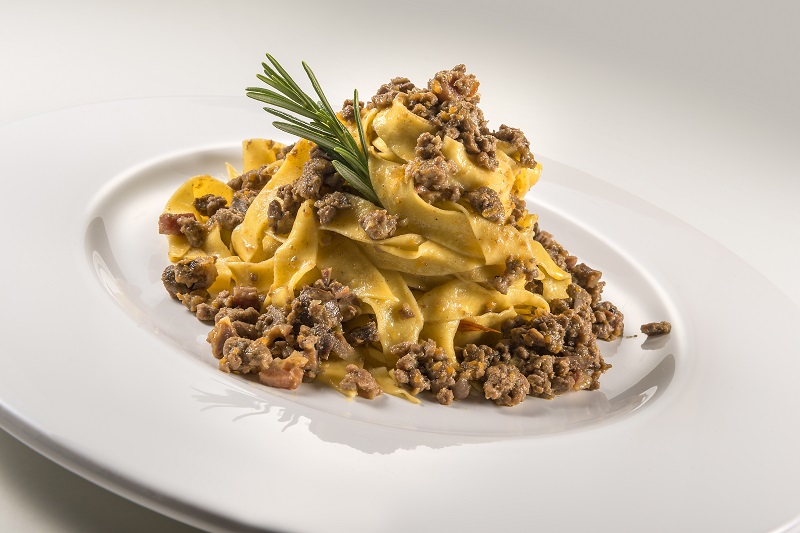 All over the world, Italy is considered the home country of pasta; even more so, the homemade kind, going back in time. Now a days though, we have so many varieties that it is very easy to get confused. Each variety has its own history and origin, as well as its own, unique, manufacturing process. A case in point is pappardelle and tagliatelle, which are often confused, even though they are originally from different regions and are quite dissimilar. So, let's find out about their origins and, above all, their differences!
The history of handmade tagliatelle
Tagliatelle are certainly one of the most popular and eaten first course meal in Italy, but what are its origins? According to a legend, tagliatelle were invented in Bologna around 1487 by the personal chef of Giovanni II Bentivoglio, a nobleman from Bologna, on the occasion of his eldest son's wedding with the daughter of the Duke of Ferrara, Ercole I d'Este. Truly, this story was invented by an illustrator and humorist. What is for sure is that tagliatelle already existed in the Middle Ages, and were handmade by rolling out the dough into thin puff pastry, which was then rolled and cut into strips: it is indeed from the verb "to cut" that the term "tagliatella" originates. Strictly speaking, the perfect tagliatelle must have a width of 7 mm, when raw: this specification and the original recipe are stored and registered with the Bologna Chamber of Commerce since 1972. The perfect condiments to enjoy tagliatelle are tomato based sauces, especially the famous Bolognese ragù.
The origins of egg pappardelle
Many believe that egg pappardelle originate from Emilia-Romagna, even though their origins are from Tuscany, to be precise, from Maremma. The term "pappardella" comes from the Tuscan dialect "pappare", which means "to eat". Pappardelle, to be such, must have a rough and porous surface from a very rustic dough, though there is no strict width to be respected, as for tagliatelle: in fact, pappardelle can vary from 2 to 4 cm, with a thickness of about 0.8 mm and a length of 20 cm. According to Tuscan tradition, pappardelle are combined with meat sauces with an intense and decisive flavor, particularly game.  In first place we find wild boar and hare sauces, followed by mushroom based sauces. Did we tempt you to a nice first course meal? With the wholemeal pappardelle produced by Le Celizie you are in safe hands: they are gluten free and produced with 100% brown rice flour from selected and guaranteed raw materials, to give you a high quality first course meal!